Share:
Sultan's Run Golf Course
- One of Indiana's Best Golf Courses
By David Theoret
Dubois County in Indiana is home to a number of large businesses: Best Home Furnishings in Ferdinand, Farbest Foods in Huntingburg, and Kimball Electronics and Jasper Engines in Jasper. It is also home to one of the state's top-ranked golf courses, Sultan's Run, a true golfing masterpiece.

Since the course opened in 1992, Sultan's Run has received its fair share of accolades including Indiana Golf Course of the year by INGCOA in 2015 and the #6 Course to Play in Indiana by Golfweek, Magazine in 2019. They have also hosted some prestigious golf events including the 2016 Indiana PGA Senior Open, Web.Com Tour Qualifiers, Golfweek Midwest Junior Classic. Golf Digest has awarded Sultan's Run 4 1/2 stars. My question to Golf Digest is "Why not 5?"

No sooner did the course open, then it underwent an extensive remodeling project in 1996. Under the guidance of world renowned architect Pete Dye disciple Tim Liddy, all 18 holes were reworked in some way or another. Zoysia fairways were planted, bunkers were added or taken away from some holes and reimagined on others. Greens were reconstructed and some hole were given a total makeover. In the end, Sultan's Run emerged as the masterpiece you see today and is a world class golf facility that will have golfers of all calibers talking about it long after they leave the course.

The length at Sultan's Run may not scare anyone away, however the slope tells a much different story. The back (Black) Tees play 6,859 yards with a course rating of 73.5 and a slope of 143. The average slope in the US is around 120, (155 is the highest) so you get the idea it's not going to be a walk in the park. Move up to the Gold Tees and the yardage drops to 6,429 but the slope only drops to 138. Two other tee boxes play to yardages of 5,762 (Silver) and 4,911 (Green). Worst case scenario is you move up a set of tees and still have a great time!

This tremendous parkland layout sits nestled in the heart of Southern Indiana and stretches across 224+ rolling acres of hardwood forests, water hazards and wildlife. As you make your way around the course, you'll play along rolling hills and tree-lined valleys, around three lakes and a myriad of streams and encounter wonderful and well-maintained bunkering. What you won't see at Sultan's Run are houses and that's not likely to change anytime soon; it's just you, mother nature and that little white ball! This is truly one of Indiana's most scenic layouts.

Stepping to the first tee, the slope and rolling terrain is evident and when you step up to the second tee you get a sense of the elevation changes. At 326 yards (Gold Tees), the 7th is a great risk/reward opportunity and you don't have to be a gorilla off the tee. A well struck drive over the fairway bunker on the left that catches the downhill slope of the fairway can easily get you on the green in the right conditions.

Up until you reach the 15th hole, water hasn't been much of a factor. The wet stuff figures predominantly into the last four holes and can easily break up a great round. Number 15 is a 375-yard par 4 with a large lake on the left off the tee and a creek running down the right. Pull your tee shot left and you may get lucky and end up in the bunker instead of the water. If that happens, you'll have a long approach shot over water. An accurate tee shot between the waterways will leave a short pitch shot into a long narrow green.

Number 16 is a 175-yard par 3 that plays downhill from an elevated tee box into a green surrounded by sand and water. The green is large with a lot of undulation so finding the green off the tee doesn't guarantee a good score.

Number 17 is a modest 383-yard dogleg left par 4 with a creek meandering down the left side. If you favor the right side off the tee and avoid the fairway bunker, you'll have a great angle into the green. The approach shot plays uphill so consider an extra club. The green slopes slightly from back to front and is protected on the right side by bunkers.

Number 18 is the far and away the most memorable hole on the golf course and is dubbed Supreme Sultan, the course's namesake! It's a 412-yard par 4 dogleg right with a huge picturesque waterfall behind the green. A good drive that flies the fairway bunkers on the right will set up a memorable short iron approach shot into an elevated green that slopes left to right towards the water. Anything right of the green will likely roll down the hill into the water. After the last putt is stroked, grab your smartphone and your playing partners and take a picture with the waterfall in the background to create a lasting memory of your visit.

According to Course Superintendent Brett Popp, the variety of grasses used on the course can sometimes be a challenge to keep in peak condition. The Zoysia tees, fairways and green collars are fairly easy to maintain because the grass is very hardy and can handle extreme hot and cold temperatures. The Bentgrass greens are another story. Several greens are well hidden by trees which restricts airflow, causing the greens to become overheated. To combat this, several holes will see the surrounding woods thinned considerably to increase airflow, yet not detract from the existing aesthetics of the golf course.

The pro shop at Sultan's Run offers some of the best equipment and apparel designed to complement your game. Pro Shop Manager Pat Schuler and PGA Professional Jeff Howerton have created their own Sultan's Run apparel label with a silhouetted logo of the memorable racehorse. After your round, stop by the fully stocked Pro Shop and browse through several name brands.

Sultan's Run Golf Club boasts some pretty impressive practice facilities including a high-capacity driving range and putting green. General Manager Chris Tretter is heavily involved with kids golf in the area and plans on greatly expanding the practice area in the near future to include a comprehensive short game area and the creation of the Sultan's Run Golf Academy. Sultan Run's competent PGA staff is available for clinics and lessons and can help take your game to the next level.

I had the opportunity to play Sultan's Run with Tretter and pick his brain about what the future holds. In addition to the new practice facilities, plans are for a number of cottages to be added in the not too distant future, allowing them to do stay and play packages. Beyond that, an indoor golf entertainment
venue with a restaurant, a pitch-and-putt course and a boutique hotel are all in the
longer term plans.


There's no better way to end your visit to Sultan's Run than a trip to the 19th Hole. Here you can unwind with your favorite beverage from Sultan Run's fully stocked bar while looking over the 18th hole. Both the bar and grill are open daily for both breakfast and lunch. Executive Chef Phil Barth and his team of culinary experts serve up some tasty dishes and I get the feeling that if the club lets Phil loose in the kitchen, the sky's the limit.

Sultan's Run is a great place to host special events such as weddings, birthdays, anniversaries, and corporate outings. The event center has a special view, overlooking the waterfall on the 18th hole. Once you discover how great the entire facility is at Sultan's Run, you will want to consider it for your next golf outing, event, or tournament. They offer a turnkey outing services include handicapping and scoring, personalized cart signs and scorecards, mulligan tickets, merchandise specials, drink tickets and so much more. Schuler, Howerton, Bart and the entire staff of dedicated professionals know what it takes to pull off a smooth event; you will see that the first time you sit down with them to start the planning process. Jeff Howerton may even be able to give you some playing tips, after all, he does hold the course record at 62. Feel free to give them a call at (912) 482-1009 or visit them online at www.sultansrun.com.

Article Tags: Sultan's Run Golf Course, Golf in Indiana, Golf Courses in Indiana, Tim Liddy Design
Revised: 07/15/2020 - Article Viewed 14,977 Times - View Course Profile

About: David Theoret
---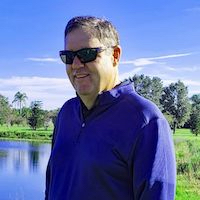 David Theoret has been in the golf and golf travel industry for over 10 years, primarily selling online advertising. For the past seven years, he has also been a golf writer, reviewing golf courses, resorts, destinations, equipment, golf apparel, and training aids - the latter of which never seems to help. David's articles and reviews have been posted on many golf travel and equipment websites.

Growing up in Southwestern Ontario, Canada, it was naturally assumed he would play hockey. Beginning at the age of 3 and continuing into his late 30's, he did just that. However, after one too many pucks to the head, he realized that golf was a lot easier on the body (whoever said hockey players were slow) and took the game up.

After moving to Florida and accepting a position with TravelGolf Media (now part of GolfNow) his love for the game grew exponentially. Most Saturdays you will find him on a course somewhere in Florida or on the practice range reinforcing his bad habits. David plays to a 10 handicap - unless there is money involved in which case it goes considerably higher. He currently resides in Lakeland, FL with his wife Belinda and their two "kids", Madyson and Molly.

---
More Articles by David Theoret
More Related Articles