Share:
Stonehenge
- Year-Round Golf near Fort Wayne, Indiana
By David Theoret
Denny Hepler has been around the golf industry for most of his adult life and has seen - and done - quite a bit. . He played his collegiate golf at Ball State University before transferring to Florida State University where he was a First Team All-Conference selection, he advanced to three NCAA finals during his college career. Denny turned pro in 1978, obtained his PGA card in 1986, and rose quickly up the world rankings, ultimately reaching No. 158. He was also the first American to win the Malaysian Open in 1982. Denny played on the PGA TOUR and played in nine major championships including four times in the US Open, four times in the PGA Championships, and once at the British Open. He has also participated in Big Break on The Golf Channel winning Big Break VI. In 2003, Hepler was inducted into the Indiana Golf Foundation Hall of Fame.

After leaving the PGA Tour, Denny Joined the PGA of America and served as the Assistant Pro at Stonehenge Golf Club before purchasing and operating Raccoon Run Golf Course across the street from Stonehenge. In 2019, Denny put a group of investors together and purchased Stonehenge, which at the time was in disrepair. Since he knew all of the ins and outs of the course, he viewed the opportunity as more of a reclamation project and set about making it the sensational facility it is today.

Stonehenge Golf Course just outside of Fort Wayne, IN in Winona Lake. The course was designed by Lakeland, Florida native Ron Garl who is known for some interesting, yet enjoyable layouts. 36 PGA Tournaments on Ron Garl designed golf courses including Las Vegas Golf & CC, home of Tiger Woods first PGA TOUR win. I've had the pleasure of writing about more than 30 Ron Garl designs and this is one of the best I've seen.

Stonehenge is as close to a links golf course as you'll find inland. The course has a very "Scottish" feel to it with patches of long "heathery" fescue grass in the fairways. Thankfully, unlike Scotland, it's easy to find your ball although it can be tough to hit out of. Hazards are well-manicured and the fairways are thick and lush. You'll find a substantial amount of mounding on the edges of the fairways as well as several pot bunkers framing the landing areas off the tee which add to the links golf feel. The greens all have a lot of slope and undulation to them which adds to the excitement of trying to hit it close, especially on the par 3s. The front nine features three par 3s giving the outward nine a par of 35. Similar to what you would find on the Old Course at St. Andrews

From the back tees, which interestingly enough are the Red tees, Stonehenge plays 7.019 yards. The Black tees play 6,901 with a course rating of 73.4 and a slope of 134. I found the Blue Tees (6,084/69/126) made for an enjoyable round, yet still brought the majority of hazards into play. Ladies typically play from the Green Tees (4,543/67.3/115). Pick the tees that best meet your ability and you're bound to have a great time at Stonehenge.

In addition to serving as Stonehenge Golf Club's Director of Golf Operations Hepler is also the Superintendent. He says his biggest challenge is keeping all of the tall ornamental grasses in check. When they purchased the course it had been closed for a brief period of time and that everything was pretty much overgrown. In my mind, the tall grasses and fescue add to the look of the course and give it that Scottish feel. There are also some Donald Ross-like features such as the bunker that guards the entire right side of the 15th green forcing players to carry it onto the putting surface.

To me, the most memorable hole on the golf course is Number 6. A par 5 that plays 479 yards. If I were naming holes, this would be called "Twin Creeks" because of the creek that has to be carried twice. It's a dogleg right with a tee shot over a creek. If you can fade your tee shot around the tree on the right, you'll have a good chance of going for the green in two. That said, there's a second creek that comes into play for those choosing to layup. Laying up will leave a short pitch shot into a relatively flat green. As a side note, the covered bridges that span the two creeks are made of wood from the big red barn that stood for years where the clubhouse is now located.

My favorite par 3 is without question Number 17 which plays 143 yards. It is by far the most challenging par 3 on the course and probably the most photographed as well. Play your tee shot downhill into an elevated green fronted by water. The green follows the contour of the pond in front which seems to be a favorite gathering point for Canadian geese that are not afraid of the big bad (rubber) wolf down by the water. A back-right pin placement is the toughest because of the small landing area. Miss the green right and you may well find the pot bunker which provides a whole new challenge. If you score par or better, consider your round a success

The signature element to any Ron Garl course is an island green and Stonehenge does not disappoint. The 2nd hole is a 367-yard par 4 and although it's not technically an island, odds are that your ball is going to be wet if you miss the green. Or, if you hit it too far off the tee (as I did). The water hazard you see in front of the green also wraps around behind it and even comes into play on the par 3, 3rd hole. A well-placed drive short of the water will leave a short pitch shot into a wide green that is crowned in the middle. As if that's not enough, there's a large bunker between the water and the green. No wonder it's the number 1 handicapped hole on the layout. It's also one of the most photographed.

Another memorable par 5 is Number 11, which plays 515 yards. It also has two water hazards to contend with although the first shouldn't be a problem. If it is, you need to speak with Teaching Professional Craig Isabel. With a large lake guarding the front of the green, most golfers will play this as a 3-shot par 5. A good drive followed by a well-placed layup will leave a pitch shot over the lake to a green with a considerable amount of slope.

These are just four of the holes that stood out in my mind. After your round, be sure to visit their lounge located just behind the pro shop. They have one of the best selections of craft beers on tap and in bottles in the area. Also, just because it's cold outside or there is snow on the ground doesn't mean it's time to put the golf sticks up for the winter. Stonehenge has installed two Trackman simulators so you can practice until your heart's content or tee it up with friends on some of the world's greatest courses. Play like you're in Scotland without the airfare. These trackman simulators can be rented by the hour. Give them a call at (574) 376-4555 or visit them online at www.stonehenge.golf.

Article Tags: Stonehenge golf course, Ron Garl, Ron Garl golf, Lake Winona Golf, Fort Wayne Golf, Golf in Indiana, Trackman, Indiana Golf Courses, Golf Simulator
Revised: 12/21/2020 - Article Viewed 9,638 Times
About: David Theoret
---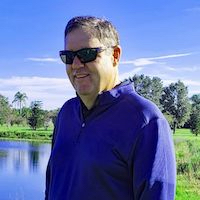 David Theoret has been in the golf and golf travel industry for over 10 years, primarily selling online advertising. For the past seven years, he has also been a golf writer, reviewing golf courses, resorts, destinations, equipment, golf apparel, and training aids - the latter of which never seems to help. David's articles and reviews have been posted on many golf travel and equipment websites.

Growing up in Southwestern Ontario, Canada, it was naturally assumed he would play hockey. Beginning at the age of 3 and continuing into his late 30's, he did just that. However, after one too many pucks to the head, he realized that golf was a lot easier on the body (whoever said hockey players were slow) and took the game up.

After moving to Florida and accepting a position with TravelGolf Media (now part of GolfNow) his love for the game grew exponentially. Most Saturdays you will find him on a course somewhere in Florida or on the practice range reinforcing his bad habits. David plays to a 10 handicap - unless there is money involved in which case it goes considerably higher. He currently resides in Lakeland, FL with his wife Belinda and their two "kids", Madyson and Molly.

---
More Articles by David Theoret