Share: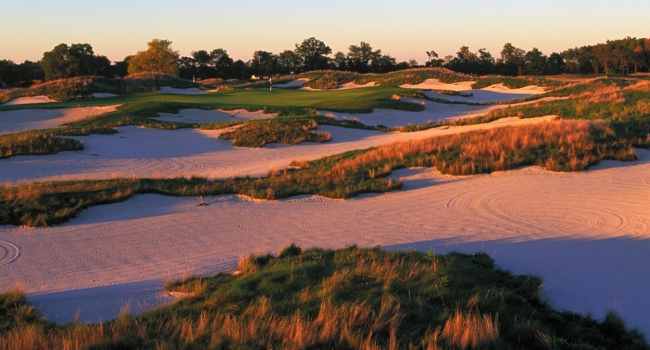 Golf in Hamilton County and Indianapolis
A trifecta of public golf options in Hamilton County, Indianapolis' neighbor to the north
By Steve Habel
CARMEL, Indiana -The eyes of the golfing world turn their attention to the BMW Championship next week at the peerless Crooked Stick Golf Club, one of the nation's top private clubs, in this northern suburb of Indianapolis.

You'll need a special invitation to tee it up here at Pete Dye's gem - which was the site of John Daly's surprising win in the 1991 PGA Championship - but don't fret, the area is well known for a plethora of great public courses as well, some that are on the short list of the best tracks in the state.

We took a trip around Hamilton County's great courses last year at this time and were blown away by the variety of the offerings and the subtle beauty and challenge the respective golf course architects had created from land that is mostly flat and often without trees.

We played three of the area's top public tracks - Purgatory Golf Club, Wood Winds Golf Course and Bear Slide Golf Club - and added on a visit to a pair of the region's great private courses as well - yes, we received that invite to Crooked Stick and got to play Broadmoor Country Club, as well.

Five days of golf in central Indiana in September was a special experience and is highly recommended. Let's take a look at the three public tracks.

Wood Wind and Bear Slide whet the golf palate
After an early morning flight from my home base in Austin, I drove out of the rental car lot at Indianapolis International Airport at the noon hour, stopped for a quick bite of lunch and headed straight for Wood Wind Golf Course in Westfield, about a 40-minute drive north.

Routed across slightly rolling farmland by Gary and Ron Kern and opened for play in 1972, Wood Wind plays at 6,507 yards and to a par of 71. The challenge here is the tight fairways, with the course playing alongside and across winding creeks, large ponds and more than 90 bunkers. The subtle elevation changes, especially on the approach shot, can leave golfers shaking their heads,

In addition, Wood Wind offers a 17-acre practice range with putting and chipping greens and last year unveiled an 18-hole footgolf course.

For a while, it looked like Wood Winds GC would not survive into 2016. Late last year its owners decided to monetize their property by selling to a residential developer with a plan that would close the golf course and build homes with a fair amount of density on the site.

But an outcry from the local populous saved Wood Wind GC for us all to continue to enjoy. Under a contract with Pulte Homes a broader, more coordinated plan to retain the golf course and build homes on extra land or land nearby has been adopted.

The following afternoon I headed north from my comfortable central home-away-from-home at the Marriott Courtyard in Noblesville to Bear Slide Golf Club, located in the middle of land containing tens of thousands of acres of corn, wheat and soybean fields near Cicero.

I was welcomed by a full parking lot and tee sheet on a Thursday afternoon, the precursor to a wonderful four hours of golf on a course might be the best value in the region.

A Dean Refram design opened in 1989 and known for its high level of difficulty, Bear Slide GC has been rated by Golf Digest with four and a half stars while playing at 6,998 yards and a par of 71.

The front-nine is open and designed in a links style, while the back is more of a traditional Midwest challenge and tree-lined with rolling hills. Bear Slide GC test players with elevation changes throughout and three large lakes on the property come into play on handful holes.

The putting surfaces are of all sizes and most are undulating. Bunkering is abundant along the manicured fairways and greenside, with both deep fescue-lined traps and conventional sand as part of the journey.

Our round at Bear Slide was memorable and testing; if one could pick up this course and transport it 30 miles closer to Indianapolis it might be get enough notice to place it in the top five in the state. Enjoy the splendid isolation and the thought that you wish your golfing buddies were along to see an enjoy this little piece of Indiana nirvana.

Purgatory heads this trip's public courses
Notoriety is not a problem with Purgatory Golf Club. Set in Noblesville and designed by Ron Kern, Purgatory has the longest sets of tees (7,754 yards from the tips) as well as the shortest (4,562 yards from the far forwards) in Indiana.

Golfers can live dangerously by hitting over and around the more than 130 bunkers place around the track, each filled with white, crushed limestone. Purgatory's signature hole, the 173-yard par 3 17th, ends at an island green surrounded by two acres of bunkers.

The fescue and heather situated in the fairway and greenside mounding is not there simply for aesthetic reasons - it prominently comes into play. Land in the first cut of rough and your ball is very playable. Land in the fescue and escape rather than recovery will be only option.

Purgatory is more than just length and bombast - its layout incorporates classic features and subtle tributes to some of the great course architects of all time.

You don't have to be a low-handicap golfer to enjoy Purgatory Golf Club, but you do have to love a challenge. Stretched out over 218 acres, it's a links-style course with something for all skill levels and provides a glorious golf experience that will keep players coming back.


Revised: 09/09/2016 - Article Viewed 20,819 Times
About: Steve Habel
---

Steve Habel is a contributing editor for GolfTrips and its associated websites. A 26-year industry veteran, he regularly contributes to various regional, national and international golf publications and has played and written about more than 1,600 golf courses around the world.

Habel is also senior editor for Horns Illustrated magazine, a publication focusing on University of Texas sports, as well the San Antonio Spurs beat writer for The Sports Xchange. He is a correspondent for the Austin American-Statesman and frequently files stories and features for The Associated Press and Preferred Lifestyle magazine.

Habel, who lives in the Austin, Texas area, has worked media coordinator for World Golf Hall of Fame player and golf architect Tom Kite as well as for renowned golf architects Roy Bechtol and Jeffrey D. Brauer.

He is a member of the Golf Writers Association of America, the Texas Golf Writers Association and the Football Writers Association of America.

---
More Articles by Steve Habel